if (do_name() != 'Home') : ?>
Python for Kids
endif ?> can be different things: a number, '4', for example. Or it can be a string, 'animal'. It can be many different things."
Python for Kids
This project aims to teach children how to use the computer to write their own programs. The target age is between 12 and 14.
---
Language Choice
I chose Python because it is one of the cleanest languages I've seen, with a really good set of libraries behind it.
However, the language is only part of the equation. In addition to the language, we need an environment where kids can see immediate results. This environment, obviously, is NodeBox.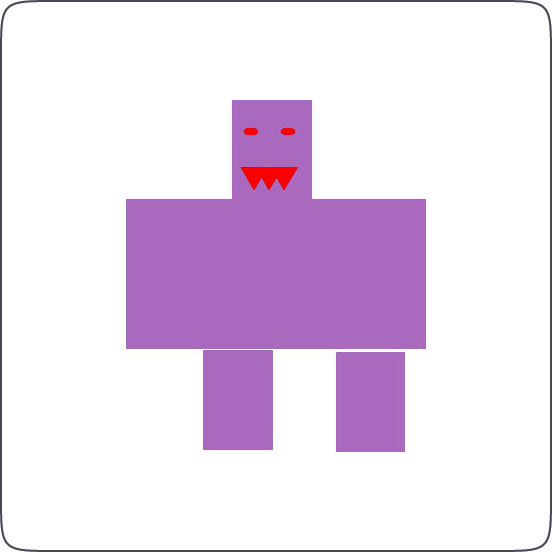 colormode

(

RGB

, 

255

)




transform

 

(

CORNER

)


 


def

 

robot

(

links,boven

)

:
 
    

translate

(

links,boven

)


    benen=

100


 
    

fill

(

194

,

162

,

272

)


 
    

rect

(

189

,

51

,

80

,

100

)


    

rect

(

83

,

150

,

300

, 

150

)


    

rect

(

143

,

300

,

70

,benen

)


    

rect

(

274

,

300

,

69

,benen

)


    

fill

(

255

,

0

,

0

)


    

oval

(

206

,

79

,

14

,

7

)


    

oval

(

237

,

79

,

14

,

7

)


 
    tand=

211


 
    

for

 y 

in

 

range

(

3

)

:
        

star

(

y*

18

+211

,

126

,

1.5

,

15

,

16

)


        tand=tand

+15


 


scale

(

0.5

)




for

 x,y 

in

 

grid

(

10

,

5

,

328

,

356

)

:        
    

reset

(

)


    

scale

(

0.5

)


    robot

(

x,y

)


 


print

 

random

 

(

0

,

1000

)
include("util/comment.php"); ?>